Holiday Trees

Origami Design trees, decorated with

origami.

These trees are custom orders for those in the *local area only (see below).  The cost includes  the consultation,  agreed upon origami,  and added ribbons or decorations.    Finished trees are works of art  and quite beautiful and unique.  You  choose  to have *your natural tree or  artificial tree decorated, as well as the colors.   

Please see  sample photos on this page.  Call or email Origami Designs early  as we can only do a limited number of trees during the month of December.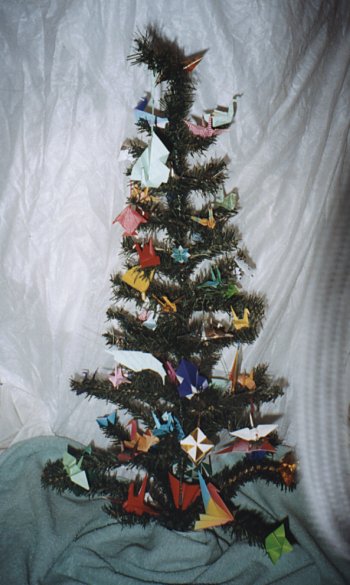 Below is the  "Charlie-like- Brown Tree"... a small 3ft artificial tree, not much to look at until we added the miniature origami decorations. ORDER this tree for Christmas from our products page! This tree was prepared for a holiday episode of a prime time TV show.  But simliar trees for parties, children's rooms, classrooms  etc., are wonderful and can be shipped by order if ordered early enough!

Trees:  Gold Foil Origami, 

           Silver Foil Origami 

           White / White with white glitter origami

           Red foil and red origami

           Green and Red  or (holiday papers)

           Multi-colored Origami

-  Origami items are a mixture of cranes, ceremonial cranes, swans, peacocks, butterflies, fans, leaves, stars and other origami items.    

-  You may add your own tree topper or we will create a coordinating origami treetopper

-  These trees include if ordered:  matching ribbon,  small natural sprigs in corresponding colors, as decided in the consultation and order.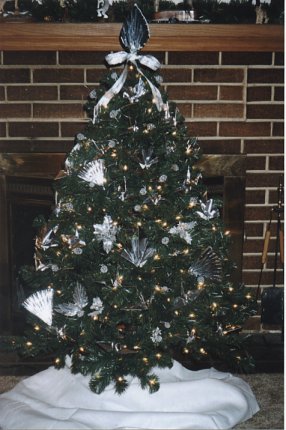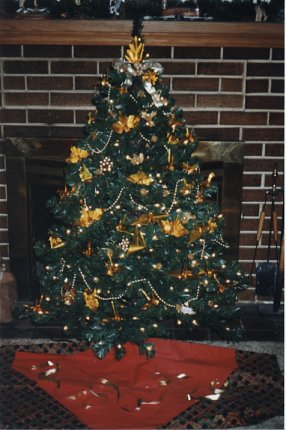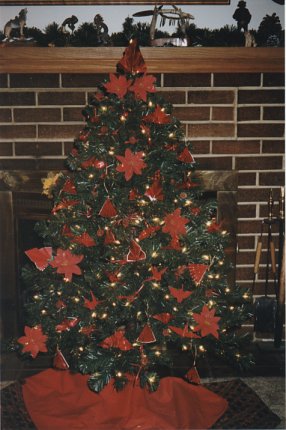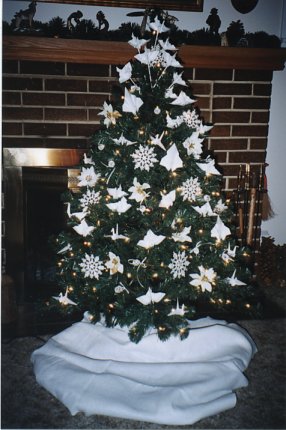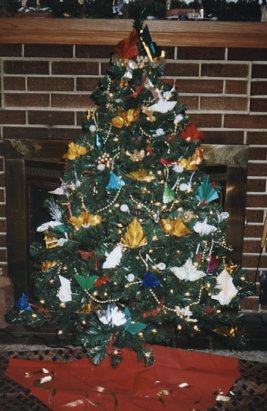 Red Origami Trees Foils & Special Red papers

Multi Colored Origami Trees

Silver Foils Origami Tree

Origami Decorated Trees shown here are examples.

These are 4 ft artificial noble fur  trees. 

* Origami Designs will by special  arrangement and agreement provide the tree for retail shops and galleries.  This arrangement must be made by October 31 of the year. 

After a consultation with the client, your trees are then decorated with origami in your choice of color. 

Items include various cranes, butterflies, fans and origami balls, stars and other appropriate items.    We will add your balls or other ornaments, beads, ribbons etc. as arranged or agreed upon, in the consultation and order.   We want your tree to be special and to your desires and needs.  

                                                                     I add flowers, natural                                                                         glitter pinecones,                                                                               sprigs, snowflakes,                                                                             balls and other items                                                                         in corresponding                                                                                colors at your request                                                                        or my discretion.

                                                                      The tree can be                                                                                   decorated as these or                                                                        in a  "wave pattern"                                                           

The "wave" is a concentration of origami cranes that starts at the top and winds its way down around the tree in a spiral wave to the bottom.

Many of the white origami on the white tree, is sprinkled with white glitter and these trees are stunning in real life, and more so with lights on.  .

Silver Foil decorated trees are very nice with glass or crystal balls or glass icicles or the silves icicles.    

The photo does not show how very elegant the silver decorated origami tree really is. 

Both the silver and white origami look beautiful & unique snow frosted or  white trees!

*  NEW!  Special News for those nationwide who want to do an origami tree.

Origami Designs will ship an assortment of folded items, ready to hang or attach to your tree by special order. 

Simply email us with your ideas, color selection and size of tree you will be decorating.  We will send you  by email a quote and shipping date information .

ANYHome can have a beautifully decorated Origami Christmas Tree! 

CLICK ON PHOTOS FOR A LARGER VIEW OF ORIGAMI  TREES.....



Above:  2004    **    Our newest addition is an All-Origami Tree for Christmas.     All paper, all origami models for decoration: boots, stars, birds, santas, wreaths, and more! 

Order early!

Approx:  3ft, stands alone,

Small packages available by separate order.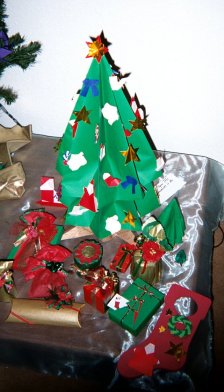 This page was last updated on: August 11, 2011