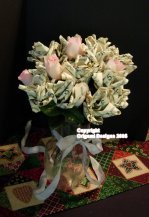 All photos of money origami roses are Origami Designs money origami roses. Copyright to Origami Designs 2000 - 2013 and my not be used, published, copied, altered, or borrowed for publication, elsewhere without the express written permission of Origami Designs. 

Money Origami Roses   &    Money Origami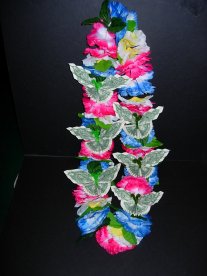 Available  from Feb 15th  2013 forward   , from Origami Designs,  is the money bouquet with  1/2 dozen money roses, or  one dozen money roses.  The bouquet  includes  white  fiber  flowers like  faux  babysbreath  or  similar.   Colored ribbon and  tissue paper wrappihg is included.

Roses are shipped ready for you to put in vase.  Roses are packed in tissue paper with colored  ribbon for nice presentation on arrival.  Please be aware that the package is shipped with tracking to an address where a required signature can be obtained upon delivery.  Their is no return and no refund on money bouquets.   Origami Designs does not sell money and charges for the labor to fold the US currency you pay for in the order.   Please allow 3 - 4 weeks for the order to be completed and shipped.  There may be  a rush fee of $50 for order requests sooner than that, by arrangement, if Origami Designs can compete the rush order.

Cost  for 1/2  dozen bouquet: includes US currency, labor, shipping & insurance

The  US currency in each bouquet is $30.00.    Total cost: $155.00

Cost for the one dozen bouquet:  includes US Currency ($60.00), labor, shipping & Insurance.   Total Cost:  $260.00 (labor/finished roses)    Shipping is an addition to this cost, quoted on zip code to you. 

Rush orders add $50 to the total: see explanation and timeframe in green above

Also available:  Origami Money Leis.   Lei   includes $30 US currency,  in money rosettes, along with fiber flowers and/or leaves.   Color choice discussed by email. 

.

A PayPal money request  or invoice for the total will be sent to your email address.

You do NOT need to join or have a PayPal account.

You can use debit or credit cards with safety.

You will give shipping information when placing the order.

You will receive a prompt confirmation of your order upon payment.

Work on your order commences upon verified payment. 

Normal time to ship is 2 to 3 weeks unless otherwise arranged for your order.

Normal US shipping,  Alaska & Hawaii shipping is twice the cost, pls email to onfirm.


Fall  2013     I am again  offering  money bouquets, leis, butterflies  & heart arrangements.  All orders be  can made by email request -  to determine if I can make your bouquet or order, in time for your due date and delivery.     If you see your link below there is a 2 to 3 week ship to delivery time,  click and order .

If you need an arrangement  sooner, you MUST call or  email your request and get confirmation from me.  I will then send an invoice to your for payment.  Thank you to all new and returning clients!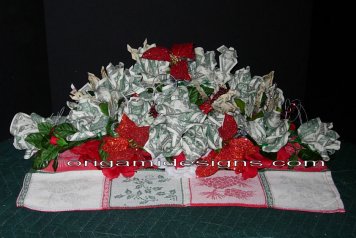 A  lovely   Christmas  Holiday Centerpiece over 24" long.   Features the  same lovely look from both sides of the arrangement.     Pictured here on a holiday

fabric mat, holly and poinsettias added at clients

request.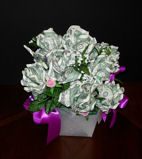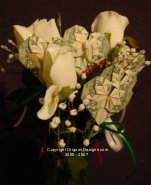 Money  hearts  in with roses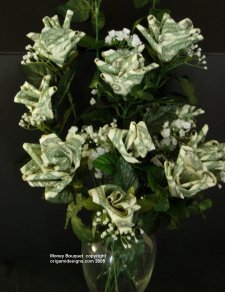 Barbara,

"..... I love the roses, butterflies and hearts.  You have done a wonderful job on the cards...I love the way you have make a heart into the card...very creative.   I hope to do business again in the future.  Thanks again for all your work...you have made my wedding favors special"  JG  Maryland

2013