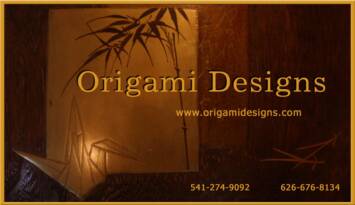 Origami Designs.com   is a sole proprietor endeavor by the origami artist.   There is no Non-Profit "arm" of the work  established yet.  It  would  be  great to officially establish the

Origami Designs.org 501 3C .  This would enable more volunteer work in classrooms, seminars, hospitals and other institutions or associations that solicit a visit or instruction from Origami Designs.org and who cannot afford to pay for the time or materials.

It would  pay for paper, and gas for transportation, to and from events and visits that bring origami to all ages: from the sick to the aged, children, or the challenged.

This work continues to be important to me.  If  you wish  to donate to Origami Designs for paper, transportation, etc. please  contact me  by email to discuss that  possibility.  Please  be  advised you cannot  use  this  donation,  as a tax-deduction!

For all who give, now or in the future, a big thank you from Origami Designs.

Origami Designs.com

Barbara Turner

Origami Artist